As leather is a natural material, it does not offer full waterproof protection.
The leather used in our range of footwear has some water-resistant properties due to the tanning process used on the hides.
Selected styles in our range have a water-resistant treatment to the leather at that stage which enhances the materials ability to repel water.
To identify these products, look for this icon: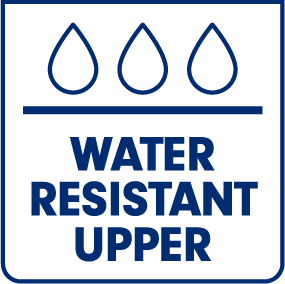 When exposed to rain, or wet terrain, the leather should provide protection from the elements but we don't recommend prolonged exposure to moisture.
For a fully waterproof style, look to our gumboots, which are made from a PVC/nitrile compound.
If your leather boots do become wet, allow them to dry naturally at room temperature.
Do not expose them to an artificial heat source as can cause considerable damage to the leather and may lead to it becoming dry and brittle.
We recommend regular use of a waterproof spray or wax to enhance the resistance to moisture.